Sultana's reality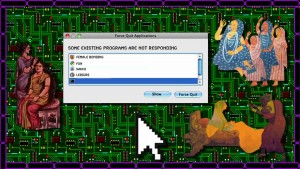 | | |
| --- | --- |
| Project name | Sultana's reality |
| Category | Mobile Applications and Art |
| Registration date | 26 September 2017 |
| Author | Afrah Shafiq |
| Status | Approved |
Description
Sultana's Reality is a digital-art project that takes a trip into history to explore the relationship between women and books in India.
Following an Alice in Wonderland style adventure the story is stitched together with written accounts of different women – who would rather nap than read, those who were stoned in the streets for wearing shoes and carrying umbrellas, those who read forbidden texts in secret at night, who read and then challenged the very people who encouraged them to read… and those who went on to write books – telling their story in their own words.
The web-story is told through animated video, graphics, gif's, comics, collages and other digital art forms made by collating, re-mixing, re-interpreting and re-imagining traditional visual imaginations of the female form.